This morning, Tesla announced the beginning of a pilot program to test the viability of opening Tesla Superchargers to all compatible EVs. 10 Supercharger stations in the Netherlands have been opened to all EVs, where all CCS2-compatible cars can pull up and charge using the Tesla app.
The inclusion of non-Tesla vehicles in the Supercharger network has been discussed for years. It makes sense that Tesla would choose Europe for the pilot, as Tesla cars (and Superchargers) in Europe use the widely-adopted CCS2 standard, rather than the Tesla connector many of us are familiar with. Since no additional adapters are required, any CCS2-equipped vehicles can just pull up, plug in, and pay in the Tesla app. Non-Tesla owners pay more to charge than owners, though Tesla will offer a charging membership to reduce fees for regular users.
On Twitter, some people have noticed potential issues, one of which is due to the original Supercharger design. Supercharging stations were originally designed for a Tesla to back into a charging space, then plug in the cable to the rear left of the vehicle, with a cable length just long enough for that. In some cases the cable is too short to reach at all. Even more difficult, however, is that some vehicle's charge ports are on the front left or rear right. It creates a situation where a non-Tesla would have to block 2 chargers (the one the parking spot is for, and the one it's plugged into) in order to charge: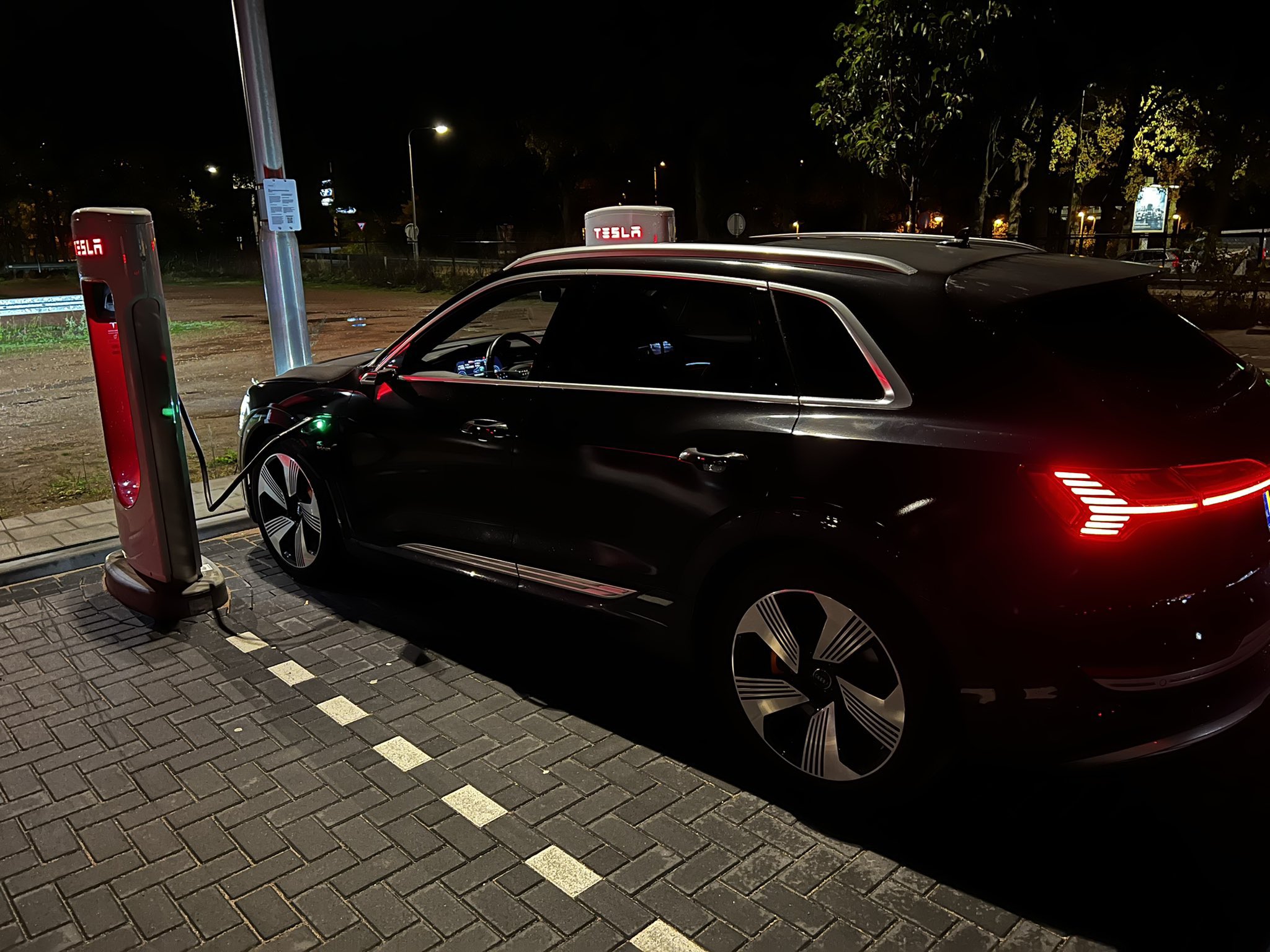 It is unknown when something like this could be expected in the US. For it to be possible here, one of 2 things would need to happen- Tesla would need to create a Tesla to CCS1 adapter, or begin installing CCS1-compatible Superchargers (perhaps the 2-cable Tesla/CCS design used in Europe). It's much easier to do in Europe, where Teslas and other EVs all use the CCS2 standard, as the mix of standards in the US makes it a much more difficult problem. Tesla is tracking congestion data during this pilot, as well as collecting feedback from users. If the Pilot program goes well, we expect Tesla will expand across Europe first, before eventually coming to the US.